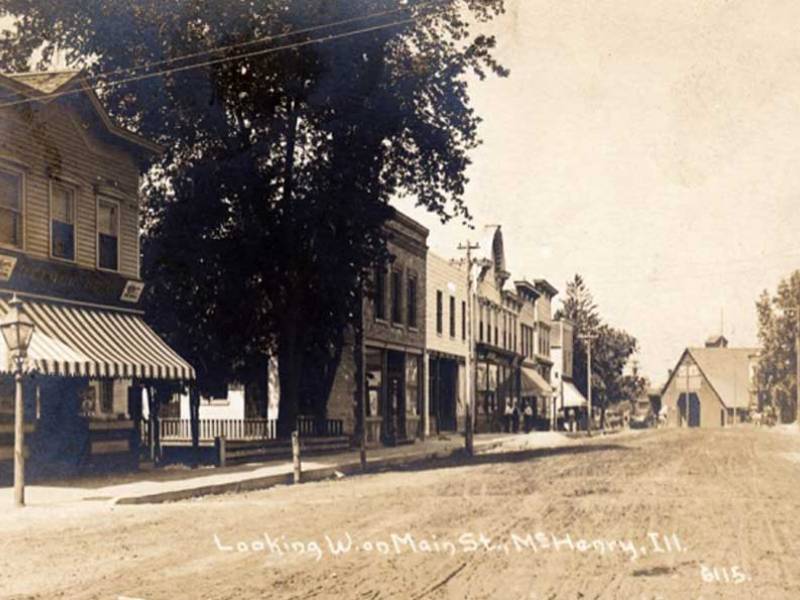 Bibliography of reference materials for McHenry County hstory by the McHenry County Historical Society
This bibliography is by no means complete but it does include resources generally found in area libraries and the MCCD Research library. The McHenry County Historical Society research library contains most of what is listed plus many more documentary records. In some instances books may be purchased. They will be noted with an asterisk.
Early plat books and all the county-wide history books listed patrons or contained biographical material that was paid for by the patron. Not finding a family biography in such books only means they didn't pay to be listed.
The drawback to much of this material, except for those things that may be purchased, is that they are considered reference material. Originally all the history and plat books were available for sale. Most are now out of print. Please contact the McHenry County Historical Society at 815-923-2267 or www.mchenrycounty [1] history.org for other sources of information including a list of the members of the McHenry County Joint Council of Historic Groups.
Countywide Resources
Maps are the earliest resources. Between the late 1830's when the surveyor maps were done and 1862 when the first plat map was compiled (showing land ownership), there is a 30 year period where map sources are scarce.
A. * 1837–1839. Original surveyor maps of each township. The McHenry County Historical Museum Library has photo static copies of each. Also available in color on cd by county for $20 each from Illinois State Archives.
B. 1862 - Earliest plat map of McHenry County. Published by M.H. Thompson & Brother, Map Publishers & Surveyors. This wall-size map shows land ownership and has county and cities platted as well as 27 structures depicted on border. Indexed. Online at https://www.loc.gov/item/2013593107 [2].
C. 1872 - New Combination Atlas of McHenry Co. Everts, Baskin & Stewart. Earliest published atlas of McHenry Co. Reprinted in 1985 by McHenry County Genealogical Society, P.O. Box 184, Crystal Lake, IL 60039. Contains line drawings of various farmsteads and other buildings. Town and city maps included along with detailed township maps. Indexed but out of print.
D. 1876 – Atlas of the State of Illinois. Union Atlas Co., Chicago. Besides the county maps, also includes 1870 manufacturing statistics, population counts, a brief county history, business directory. County maps reprinted as Maps of Illinois Counties in 1876. Published in 1972 by Mayhill Publications.
E. 1877 – Directory of McHenry County, IL. Includes a brief history of each of the townships, a general history of the county, township directories and business directories for various communities. People were listed because of a paid subscription. Indexed.
F. 1885 - History of McHenry County. Inter-State Publishing Co., Chicago. First full history of the county with a biography of residents. Reprinted by The Woodstock Public Library. Indexed and out of print.
G. 1892 – Plat Book of McHenry County. George A. Ogle & Co., Chicago. Also includes an Historical Directory of residents – listing business, township or village, post office, year of birth, nativity, when came to county. Village maps often identify businesses, good for the location of creameries.
H. 1903 – Historical Encyclopedia of Illinois. Edited by Newton Bateman and Paul Selby. 2 volumes. The second volume contains 332 genealogy and biography records of McHenry County patrons as well as many portraits. Out of print.
I. 1908 – Standard Atlas of McHenry County. By George A. Ogle & Co., Chicago. Also includes a patron's reference directory and illustrations of patrons and buildings. Last of the atlases to identify county housing sites.
J. 1915 – Rand McNally & Co.'s New Census Atlas of the World. Includes a landowner's directory of northeast Illinois.
K. 1917 – Prairie Farmer's Reliable Directory of Farmers and Breeders, McHenry and Boone Counties. Includes arrival date into county, townships and sections of farm and family history in some cases. Out of Print.
L. 1922 – History of McHenry County, 2 volumes. Chicago, Munsell Pub. Co. Volume 1 has local history and Volume 2 consists of 161 biographies and portraits. Out of print.
M. 1968 – McHenry Co., Illinois, 1832-1968. Lowell Albert Nye, Ed. McHenry Co. Board of Supervisors, publishers. There is a separate index to this publication. Out of print.
N. * McHenry County Illinois Genealogical Society four volume set of McHenry County cemeteries indexes. Vol. 1: Northwest Townships, 1990; Vol. 2: Southwest Townships, 1995; Vol. 3: Northeast Townships, 1997; Vol. 4: Southeast Townships, 2000. Vols. 1&2 out of print; Vol. 3 $38, Vol. 4 $45.
O. 1995 - McHenry County in the Twentieth Century. McHenry County Historical Society and Heart Publications, Inc. Every name index plus several hundred family histories. 1,256 pages.
P. * Soft cover book, McHenry County, Illinois by Maryan and Dan Pelland. Arcadia, 2002. Images of America series. 128 page booklet contains mostly pictures with captions and provides a nice overview of 19th and 20th century McHenry County. From Arcadia $21.99.
Q. McHenry County: A Pictorial History, Vol. 1 published by the Northwest Herald, 2003. 128 pages. Excellent quality, all photo trip through county history.
R. A Collection of Memories by Don Peasley. 2005. Photos taken by author of area, especially Woodstock, between 1974 and 2005. Soft cover with pictures and captions.
S. * McHenry County, Illinois Marriages: Vol. IV: 1894-1899 published by the McHenry County Illinois Genealogical Society. For purchase details see www.mcigs.org [3].
T. Microfilm census records for McHenry County: 1840, 1850, 1860, 1870, 1880, 1900, 1910, 1920, 1930; Microfilm Agricultural Census for McHenry County: 1850 and 1865; Microfilm Manufacturers' Census for McHenry County: 1880; Microfilm Mortality Schedules for McHenry County: 1850, 1860 & 1880; Microfilm Illinois State Census records for McHenry County: 1855 & 1865.
U. * Family Maps of McHenry County, Illinois by Gregory A. Boyd, J.D. Arphax Publishing Company. Purchase at www.arphax.com [4] for $45.
V. * Chicago—Lake Geneva, A 100 Year Road Trip published by The Chicago Map Society and the Newberry Library. Purchase at 773-702-7748 or sales@press.uchicago.edu [5].
W. * Historic Country Schools of McHenry County, Illinois by Crystal Lake author Robert Frenz and sponsored by the McHenry County Historical Society. The indexed 232 page hard cover book documents each of the 140 plus one and two room rural schools in the county. Photos, maps, and recollections make this book special for anyone interested in area history. Purchase from the McHenry County Historical Society. $35.
X. Notes on the Old Barber Cemetery in Riley Township in McHenry County, Illinois by Gary E. Swinson.
Y. * Soft cover book, Lost Farms of McHenry County by Glynnis Walker and Arabella Anderson. Arcadia, 2010. Images of America Series. From Arcadia $21.99.